I have mentioned before that I suffer from Degenerative Disc Disease, it is what causes the largest part of problems for me. There was more to that the day of which I found out I needed neck surgery two years ago. I had been complaining of severe pain in my neck including numbness, loss of grip, shooting pain, sharp & dull pain. It made everything difficult, this was made worse by the fact that I was getting pinched nerves often. Not just one that muscle relaxers could help but they would last for weeks. It also felt as if the pain never went away except the sharpest even when I could move head again. Finally I found a doctor that was listening to my complaint about how bad it felt, how often I was having pinched nerves. He still seemed a little skeptical but he sent me for an MRI anyway just to rule out things. I think he thought I was some drug abuser.  because I had asked him what I could do about pain and muscle relaxers. I make sure that he knew I would go without if he found nothing on MRI he decided to schedule one.
The MRI was set, the day I arrived just little nervous even being somewhat excited to find out what was happening to cause me such pain. It was making problems for me to find and keep a job being as I missed so many days of work. The great thing is the facility I went to was able to play music while the test was being run. Lucky I had doctors that communicate well they actually got me in to have knee, for another day, and neck done on same day including time slot. Waiting was hard just not knowing what they would find. Early one morning the phone rang, they had news  we scheduled an appoinment for two days later. While waiting with my SO the tension grew, as if you could cut the air with a knife.  Dr. entered the room there was some bad news that was no surprise. Not only did I find out that I had DDD but part of a vertebra had broken off and was cutting into my brain stem and spinal cord. Know we knew what was causing the issues the question is what happened. There was one answer I automatically thought of football (soccer). I had taken a hard tackle that had landed me square in my neck and top of shoulders. At this time I was informed that I needed surgery before Christmas, this was only a few days away from Thanksgiving. There wasn't an open slot so we had it scheduled for after, given the instructions to not do anything physically active so as to lessen the risk of causing more damage. Surgery was preformed that following January it went by well, it was hard to sleep in that collar you do get used to it. I have since fully recovered although I did have to give up all sports and my horses or chance another injury. It is a long journey to work your way back into life it is taken one day at a time. Learning how to have patience you cannot rush healing.
How does it feel to have Degenerative Disc Disease? Any move can cause me to have pinched nerves. From just in the neck to the lumbar making it feel as if someone is sending bolts of lightening down my legs. If you have ever been shocked imagine that but starting in the hip going down through thigh down to toes. At times my back can feel as if it is a vice, with a burning pain that is sharp like a fireplace poker. One the worse days I have been stuck in bed all day, not able to even get up for the simplest things like food or bathroom. Those times I have to move very gently with the wrong movement things can get worse. So I have talked a little about how it affects me. Now I will allow https://www.cedars-sinai.org/health-library/diseases-and-conditions/d/degenerative-disc-disease.html to explain the science side of it.
Degenerative disc disease refers to symptoms of back r neck pain caused by wear-and-tear on a spinal disc. In some cases, degenerative disc disease also causes weakness, numbness, and hot, shooting pains in the arms or legs (radicular pain). Degenerative disc disease typically consists of a low-level chronic pain with intermittent episodes of more severe pain.
What causes degenerative disc disease?
Several factors can cause discs to degenerate, including age. Specific factors include:
The drying out of the disc. When we are born, the disc is about 80 percent water. As we age, the disc dries out and doesn't absorb shocks as well.
Daily activities and sports, which cause tears in the outer core of the disc. By age 60, most people have some degree of disc degeneration. Not everyone at that age has back pain, however.
Injuries, which can cause swelling, soreness and instability. This can result in low back pain.
What are the symptoms of degenerative disc disease?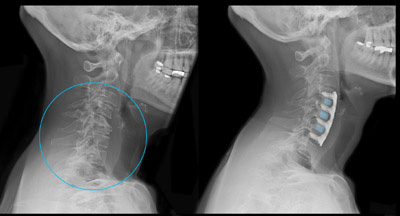 The X-ray shows degenerated discs on the left before surgery. On the right is an X-ray of the discs after traditional spinal fusion surgery.
The typical person with degenerative disc disease is active, otherwise healthy and in his or her 30s or 40s. Mine is different in the progression is faster. I already have had two disc replaced, though we have three in lumbar and two in neck that are already being talked about for surgery. The lumbar disc have severe bulging disc two of the worse ones are already tearing open. A bulging disc occurs when the outer layer of the disc is forced out of its normal boundary and pushes into the spinal canal or surrounding nerve roots.
Common symptoms of Degenerative Disc Disease include:
Pain that is worse when sitting. While seated, the discs of the lower back have three times more load on them than when standing.
Pain that gets worse when bending, lifting or twisting.
Feeling better while walking or even running than while sitting or standing for long periods of time.
Feeling better changing positions often or lying down.
Periods of severe pain that come and go. These last from a few days to a few months before getting better. They can range from nagging pain to disabling pain. Pain can affect the low back, buttocks and thighs or the neck, depending on where the affected disc is, radiating to the arms and hands.
Numbness and tingling in the extremities.
Weakness in the leg muscles or foot drop, a possible sign of damage to the nerve root
How is degenerative disc disease treated?
Treatment options include:
https://www.cedars-sinai.org/health-library/diseases-and-conditions/d/degenerative-disc-disease.html
I have already had two disc replaced in lower neck my C5-C6 &C6-C7, it was scary to think not only are they having to do surgery on my neck. It was more they are going in through the front of neck.
Here is what I have found out for myself that took the longest it has changed how we not only see the world but react to it. I grew up riding horses playing hard, working even harder. Every job I have worked has included heavy lifting for example working at farm supply store. Every day putting out, stocking, rotating (on truck day) feed or just carrying for customer. When stocking 50lb bags of feed it is easier faster & more efficient if you do three to four at a time. Back then I would weigh anywhere from 105lb to 115lb meaning every time I was lifting almost my weight or more. This wasn't just done once a day but every day on days we rotated feed this was done multiple times anywhere from 20 to 40 different types of feed. Then you add in I had to go clean stalls, toss hay then feed. Lets look at what those numbers offer we already know that feed is 50lb bags so add 3 of those each day to pour into the cart which held 3 bags which got wheeled around the barn. Then you had hay moving between 4 to 10 bales each day some days twice a day if winter and they were in all night, some also all day only having turnout while cleaning stalls or being ridden. One hay bale can weight up to Square bales anywhere between 30 pounds on the lighter side to 100 on the heavier. Usually alfalfa bales way more with small square bales weigh from 50 – 100lb these we use 2 to 5 daily. Now my favorite workout which I miss is cleaning stalls yes, I know gross best ab and arm work though. After cleaning 40 stalls with constant trips to tractor picking up the muck bucket lifting up to empty. I have found I destroyed my own back. Some people's bodies can handle it for years just ended up with bad genes that couldn't handle to workload. I made sure my daughter never had to do they type of had labor when she was younger. Never would I wish this pain the heartache of loosing who I am to anyone else. I have fought to not let go just recently after three years of fighting finally did it come to a realization it was time to find a new me. Thankfully not sleeping gives me the needed time to find out who I will be now what to do with my life. Being on so many restrictions has changed everything I spent my life toward.
This is now my life living around the pain & heartache of making sure everything I do no longer hurts my back. I have been through the surgery that helped make my life a little better. Spending two years in the pain of that vertebra broken off and causing issues this does include being angry all the time. Pain changes you doesn't matter who you are mostly being angry not with others just at the pain that never gives you any relief. As I close this I am getting ready to lay down to get relief with my pup by my side there is something you must remember. If you have pain talk to your doctor do not let them just make it quick be firm assertive. Seeing so many people who are just abusing drugs makes it harder for them to believe the pain you could be in. Be persistent don't let them tell you it isn't as bad as you think it is. Finding the right doctor is key from sleep to heart to spine making sure I found the right team for me literally changed my world.